Professional Training of DVIN 1 Operators
ООО " Neutron Technologies ", the manufacturer of DVIN 1 Portable Complexes, together with Dubna Education Center * organizes professional training according to the refresher course:
" Operator of DVIN 1 Portable Explosives Detection Complex "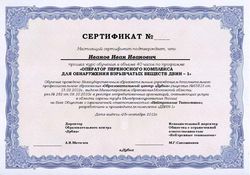 The course includes both theoretical and practical classes and takes 40 academic hours (5 days). Upon the course completed, the students obtain a standard document – the Certificate of DVIN 1 Operator.
The lectures and seminars delivered by experts will familiarize the students with the general safety instructions for working with ionizing radiation sources and explain the basic DVIN 1 operation principles and methods.
The practical classes at our testing laboratories will improve the qualification of the specialists to professionally handle DVIN 1.
For more information and registration for the course, please contact our specialists: +7(496) 216-58-75, 216-30-51; e-mail .
* Dubna Education Center (Obrazovatelny Tsentr "Dubna") Non-Government Continuing Professional Education Institution (License А No. 337027, of 12.08.2009, issued by the Ministry of Education of Moscow Region, Reg. 282 of 09.10.2010).